DISCOVER THE TOP 10 THINGS TO DO IN SHELL KNOB, MO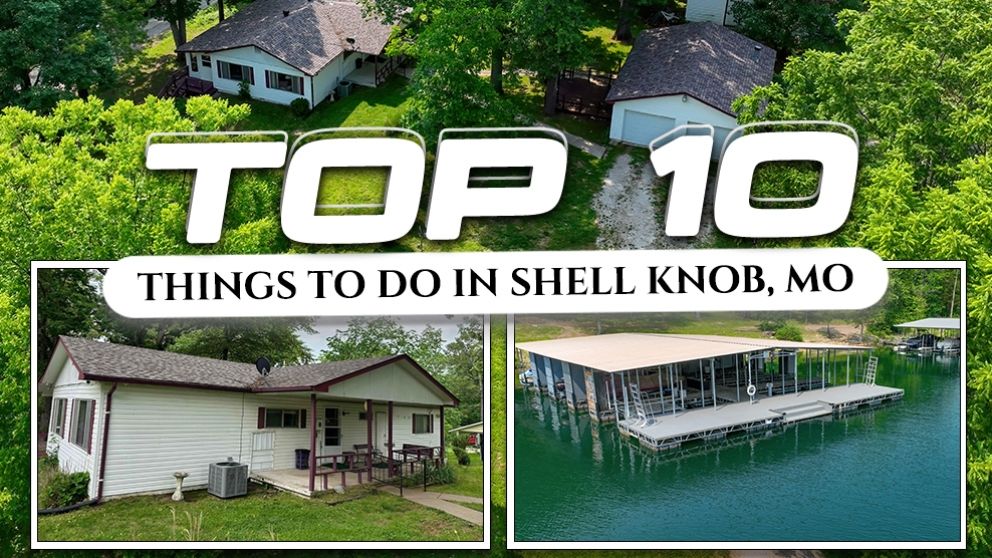 ---
SHELL KNOB, Missouri — If you are looking to own your own peaceful retreat with waterfront living, scenic beauty and recreational opportunities, our upcoming Real Estate Property Auction at 25079 Farm Road 2236 in Shell Knob, MO on Saturday, July 22 at 12pm is just for you!
Here are some exciting activities and places to explore when you're living in in Shell Knob, Missouri:
BID NOW! CLICK HERE TO VIEW AUCTION
Discover the Top 10 Things to Do and Discover in Shell Knob:
1. Table Rock Lake: Table Rock Lake is a large reservoir located near Shell Knob. It covers approximately 43,000 acres and offers plenty of recreational opportunities. You can go swimming in the clear waters, rent a boat for water skiing or tubing, or simply relax on the sandy shores. The lake is also known for its excellent fishing, particularly for bass, crappie, and catfish.
2. Fishing: Table Rock Lake is a popular destination for fishing enthusiasts. The lake is home to a variety of fish species, making it a great spot for anglers. Bass fishing, in particular, is a favorite activity, with largemouth and smallmouth bass being the most sought-after catches. The lake has several marinas where you can rent boats, and there are also fishing guide services available.
3. Water Sports: In addition to fishing and boating, Table Rock Lake offers a variety of water sports for adrenaline enthusiasts. You can try your hand at water skiing, wakeboarding, jet skiing, or tubing. Many marinas and rental shops around the lake provide equipment and lessons for these activities.
4. Hiking and Nature Trails: Shell Knob and its surrounding area have several scenic hiking and nature trails that allow you to explore the natural beauty of the Ozark Mountains. The Eagle Rock Loop Trail is a 26-mile trail that offers breathtaking views of Table Rock Lake, forests, and rocky bluffs. The Shell Knob Nature Trail is a shorter trail that winds through woodlands and offers glimpses of local flora and fauna.
5. Camping: There are several campgrounds in and around Shell Knob where you can enjoy a camping experience. Some popular campgrounds include Campbell Point Campground and Viola Campground. These campgrounds offer a range of amenities, including campsites with electricity, picnic areas, and access to the lake.
6. Shopping and Dining: Shell Knob has a few small shops and restaurants where you can explore and dine. The local businesses offer a variety of items, including antiques, crafts, and souvenirs. You can also find restaurants that serve delicious regional cuisine, such as barbecues, fried chicken, and homestyle meals. Here are two local favorites:
Big M Marina & Floating Cafe: Located right on Table Rock Lake, Big M Marina & Floating Cafe provides a unique dining experience. Enjoy a meal while sitting on a floating dock, surrounded by scenic lake views. The menu features a variety of dishes, including seafood, burgers, sandwiches, and salads. Don't miss their famous fish tacos!
Flat Creek Resort Bar & Grill: Situated near Table Rock Lake, Flat Creek Resort Bar & Grill offers a rustic and inviting atmosphere. They serve up a range of appetizers, sandwiches, burgers, and entrees. Their menu highlights include mouthwatering steaks, flavorful BBQ, and fresh seafood options. Pair your meal with a refreshing drink from their full-service bar.
7. Wildlife Viewing: Shell Knob and its surrounding countryside are teeming with wildlife. As you explore the area, keep an eye out for white-tailed deer, wild turkeys, squirrels, and a variety of bird species. You can enjoy wildlife viewing by taking a leisurely drive through the scenic backroads or embarking on hikes in the wooded areas.
8. Golfing: If you enjoy golfing, there are a couple of golf courses near Shell Knob. Kings River Golf Course is located in nearby Shell Knob, offering 9 holes of golf in a beautiful setting. There's also the Holiday Island Country Club in nearby Holiday Island, Arkansas, which features an 18-hole championship golf course.
9. Bridal Cave: Bridal Cave is located near Camdenton, approximately an hour's drive from Shell Knob. It is a stunning underground cave system with guided tours available. The cave features remarkable stalactites, stalagmites, and other unique rock formations. The tours provide interesting information about the cave's history, geology, and folklore.
10. Scenic Drives: Shell Knob and its surroundings are blessed with picturesque landscapes and scenic routes. Take a leisurely drive along the countryside, enjoying the rolling hills, farmlands, and stunning lake views. Some popular scenic drives include Route 39 and Route 76, which offer beautiful vistas and a chance to soak in the natural beauty of the Ozarks.
These reasons make Shell Knob, Missouri an attractive location for purchasing a lake house. It provides an opportunity to embrace a beautiful natural setting, engage in exciting outdoor activities, and enjoy a peaceful and fulfilling lifestyle by the water's edge. Enjoy your time exploring the area!
###
---
Real Estate Auction with Lake View and Boat Slips - Shell Knob, MO
Date: Saturday, July 22
Time: 12pm CST
Location:

25079 Farm Road 2236, Shell Knob, MO 65747



Property Details:
• Spacious 3-bedroom, 2-bath doublewide home
• Mesmerizing lake view and 2 boat slips for convenient water access
• Large open living area, deck, covered porches, and sunroom
• Situated on approximately 0.87 acres of land
• Includes a 3-car detached garage for ample storage space
• Access to sidewalks and community water
In-Person Attendance: Attend the auction in-person on Saturday, July 22 at 12pm CST at 25079 Farm Road 2236, Shell Knob, MO 65747. Engage with other bidders and witness the auction process unfold.
Online Simulcast Auction: For those unable to attend in person, the auction will be simulcast online at www.SextonAuctioneers.com, allowing you to bid from the comfort of your own home. Register at www.SextonAuctioneers.com in advance to gain access to the online bidding platform, where you can view real-time auction updates and place bids.
For more information, pictures and video on this auction, Click Here.
---