DON'T MISS OUT - AUGUST 31ST ONLINE EQUIPMENT AUCTION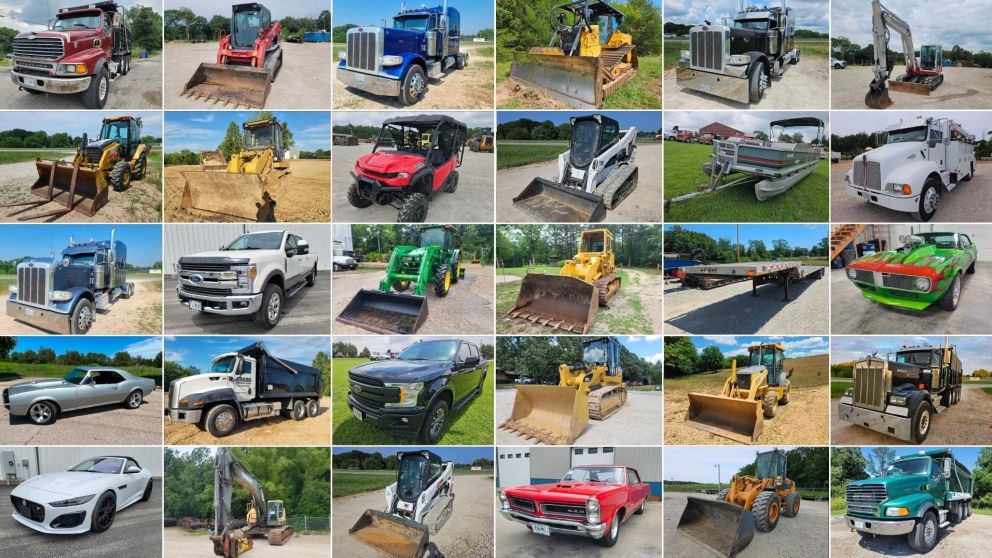 Unveiling the Ultimate Online Auction on Thursday, August 31st: Your Chance to Score Big on Heavy Equipment, Classic Cars, Ag Equipment, Semis, Pickup Trucks and More!
BID NOW! CLICK HERE TO VIEW AUCTION
If you've been on the lookout for a spectacular Online Auction with heavy equipment to get you back to work, look no further! We're thrilled to introduce our August 31st Online Auction happening at

SextonAuctioneers.com
. This is not just any auction; it's an extravaganza featuring over 600 incredible items ranging from Heavy Equipment to Classic Cars, all available for bidding right from the comfort of your own screen.
The bidding is LIVE now and culminates on Thursday, August 31st starting at 11am CST. Get ready to Bid Now!
Want to view the equipment before you bid? Visit our Equipment Yard at:
Sexton Auctioneers Yard, 5182 US HWY 63, Pomona, MO
HUGE Lineup of Equipment:
The selection at this virtual auction is truly a sight to behold. With a lineup of more than 600 items, there's something for everyone, whether you're an avid heavy equipment enthusiast, an ag equipment aficionado, a classic car connoisseur, or simply someone in search of a great deal. Here's just a taste of what you can expect:
Heavy Equipment and Ag Equipment
For those who know the value of heavy machinery, this auction is a dream come true. From bulldozers to excavators, wheel loaders to tractors, the range of heavy equipment up for bidding is extensive and impressive. Whether you're a seasoned professional or just starting to build your equipment collection, this auction is your golden opportunity to acquire top-quality machinery. This August 31st Online Auction includes:
2020 Caterpillar D6 LGP Crawler Dozer

2008 Caterpillar 963D Crawler Loader

Caterpillar 953C Crawler Loader

1998 Caterpillar 953C Crawler Loader

1993 Caterpillar 953B Crawler Loader

CASE 721C Wheel Loader (Qty. 4)

2022 Takeuchi TL12V2 Skid Steer

2022 Takeuchi TL12R2 Skid Steer

2022 Bobcat T595 Skid Steer

2017 Bobcat T770 Skid Steer

2017 Kubota SVL95-2

Bobcat T300 Skid Steer (Bucket + Forks)

2000-08 Caterpilla Skid Steers (Qty. 4)

2007 Caterpillar 420E Backhoe & MORE!

Classic Cars and Vehicles
If the roar of engines and the allure of classic design get your heart racing, you're in for a treat. The auction boasts an array of classic cars that have stood the test of time in both elegance and performance. From sleek vintage models to iconic classics, these vehicles have stories to tell and are waiting for their next proud owner. This August 31st Online Auction includes:
1965 Pontiac GTO Hardtop

1967 Chevrolet Camaro

1967 Chevrolet Camaro

1956 Chevrolet 210 Delray

1934 Ford Coupe & MORE!

Pickup Trucks and Semis
Whether you need a powerful workhorse for your daily tasks or a dependable vehicle for your transportation needs, the assortment of pickup trucks and semis at the auction is sure to catch your eye. With varying sizes, capabilities, and features, these vehicles are up for grabs to enhance your mobility and productivity.
2019 Peterbilt 389

2016 Peterbilt 389 (Qty. 2)

​

2019 Ford F-350

2019 Ford F-150

2016 Ford F-350

2010-16 Chevrolet Silverado

2009 Dodge Ram 1500 & MORE!
The auction doesn't stop at heavy machinery and vehicles. Trailers of different types and sizes are also up for bidding. Whatever your hauling requirements, you'll find an assortment of flat-bed trailers that are designed to handle various loads efficiently.
How to Participate:
Participating in this thrilling virtual auction is a breeze. Simply visit SextonAuctioneers.com and browse through the catalog of items. Once you've found the treasures that catch your interest, it's time to place your bids. Make sure you're registered on the website to ensure seamless bidding throughout the event.
Get in Touch With Us:
Got questions? Need more information? Feel free to reach out to the friendly team at Sexton Auctioneers. You can contact them at 314-529-0124 for any inquiries you may have about the auction, items, or the bidding process. You can also email us at: Info@SextonAuctioneers.com
Ready, Set, Bid Now!
The countdown to Thursday, August 31st has begun! Don't miss your chance to be part of this extraordinary virtual auction. Whether you're in the market for heavy equipment, classic cars, pickup trucks, or trailers, this is the event you've been waiting for and don't want to miss!
Click BID NOW below - your next prized possession might just be a click away!
---
Over 600+ Items Selling in Auction Including:
BID NOW! CLICK HERE TO VIEW AUCTION
2021 Jaguar F-Type
2019 Ford F-350
2019 Ford F-150
1965 Pontiac GTO Hardtop
1967 Chevrolet Camaro
1967 Chevrolet Camaro
1956 Chevrolet 210 Delray
1934 Ford Coupe
2020 Caterpillar D6 LGP Crawler Dozer
2008 Caterpillar 963D Crawler Loader
Caterpillar 953C Crawler Loader
1998 Caterpillar 953C Crawler Loader
1993 Caterpillar 953B Crawler Loader
Caterpillar 955L Track Loader
CASE 721C Wheel Loader
CASE 721C Wheel Loader
CASE 721C Wheel Loader
CASE 821C Wheel Loader
2022 Takeuchi TL12V2 Skid Steer
2022 Takeuchi TL12R2 Skid Steer
2022 Bobcat T595 Skid Steer
2017 Bobcat T770 Skid Steer
2017 Kubota SVL95-2
Bobcat T300 Skid Steer (Bucket + Forks)
2008 Caterpillar 242B2 Skid Steer
2006 Caterpillar 248B Skid Steer
2002 Caterpillar 248 Skid Steer
2000 Caterpillar 248 Skid Steer
2011 Bobcat SV205 Skid Steer
2007 Caterpillar 420E Backhoe
2005 John Deere 310SG Backhoe
CASE 580L Backhoe
1986 Caterpillar IT18 Wheel Loader
CASE W14C Wheel Loader
2006 Ingresoll Rand WL440 Wheel Loader
2002 Geo-Boy Mulcher
2010 Volvo ECR305CL Excavator, Buckets and Hammer
2022 Takeuchi TB290 Excavator
2023 Yanmar Vio35-6 Excavator
John Deere 35G Mini-Excavator
2023 CF Industry KU-45 Mini Excavator
2023 CFG Industrial STE35SR Mini Excavator
AGROTK QH 12 Mini Excavator
AGROTK QH 12 Mini Excavator
AGROTK QH 12 Mini Excavator
AGROTK QH 12 Mini Excavator
AGROTK QH 12 Mini Excavator
AGROTK QH 12 Mini Excavator
AGROTK QH 12 Mini Excavator
AGROTK QH 12 Mini Excavator
AGROTK 12 Mini Excavator
Landhero 12 Mini Excavator
Landhero 12 Mini Excavator
AGT Mini Skid Steer
AGT Mini Skid Steer
Hyster 225 Forklift
Hyster H80XL Diesel Forklift
120 Caterpillar Road Grader
John Deere 440C Log Skidder
Caterpillar 613 Scraper
2019 John Deere 5090M Tractor
Allis Chalmers 8050
Case IH 885 Tractor
1971 Oliver 1365 Tractor
1980 John Deere 1050 Tractor and 5-foot Brush Hog
2007 Sterling L9500 Tri-Axle Dump Truck
2005 Sterling L9500 Tri-Axle Dump Truck
2009 Sterling L9500 Tri-Axle Dump Truck
1996 Kenworth W900L Dump Truck
2012 CT660 Dump Truck
2012 CT660 Dump Truck
2007 International 7600 Dump Truck
1986 Chevrolet C70 Dump Truck
2019 Peterbilt 389
2016 Peterbilt 389
2016 Peterbilt 389
1986 Kenworth W900
2016 Peterbilt 579
2016 Peterbilt 579
2015 International ProStar
2014 Freightliner Cascadia 125
2009 International ProStar
2012 Western Star 4900SA
2004 International 9900i
1993 Freightliner FLD120
1993 Peterbilt 377
1993 Freightliner FLD120
1996 International 8100 Single Axle
2023 Utility Flatbed
2022 Utility Trailer
2005 Transcraft Step Deck Trailer
2001 Reitnouer Aluminum Flatbed Trailer
2011 Wilkens Walking Floor Trailer
log trailer
1978 Reliance Log Wagon
2003 Wabash Reefer Trailer 53x102
1973 Van Trailer NO TITLE
Van Trailer NO TITLE
1984 Peterbilt 348 Log Truck
2007 Kenworth T300 Service Truck
2002 International 4300 Diesel Lube And Service Truck
2000 GMC C7500 Boom Truck
1999 Freightliner FL70
1993 International 4900
1992 International 4900
2003 GMC C5500
1998 Ford F700 Boom Truck
2016 Ford F-350
2014 Chevrolet Silverado
2012 Chevrolet Silverado
2012 Chevrolet Silverado
2011 Chevrolet Silverado
2010 Chevrolet Silverado
2009 Dodge Ram 1500
2008 Chevrolet 2500HD
2004 Dodge Ram 2500
2004 Ford F-150
1994 Toyota Pickup
1987 Ford F-250
1971 Ford F-100 Ranger
1968 Chevrolet C20
2009 Ford F-550 (Non-Runner)
2001 Chevrolet Silverado 1500HD (Non-Runner)
2008 J&W Gooseneck Equipment Trailer
2010 Starlight Gooseneck Trailer
2008 lonest
1984 Gooseneck 24' Livestock Trailer
1976 Gooseneck Stock Trailer
2007 Gooseneck A10A2 equipment trailer
trailer
2006 Apache equipment trailer
MEB Manufacturing Bumper Pull Trailer
Trailer Deck Boards (rough cut lumber)
2006 Frontier Aspen Camper
2009 Heartland Big Country Camper
2016 Ford Taurus
2015 Dodge Charger
2013 Dodge Charger
2012 Dodge Charger
2019 Dodge Grand Caravan
2018 Kia Optima
2011 Ford Mustang
2010 Mini Cooper S
2005 GMC Yukon XL
2004 Jeep Wrangler
2002 Jaguar XK8 Convertible
1958 Chevrolet Biscayne
1983 Pontiac Grand Prix LJ
2022 Honda Pioneer 1000-5
John Deere Gator XUV 550
Polaris Hawkeye Four-Wheeler (Non-Runner)
Mini Four Wheeler (Non-Runner)
Honda Ruckus Scooter
2019 Homemade Food Trailer
1990 Bass Tracker Pontoon Boat
1978 Glastron Ski Boat
John Deere F687
Golf Club Cart (Non-Runner)
Leer Camper Shell
2023 Ford F-350 Truck Bed
Diesel Generator
Hobart Champion Elite 225 Welder/Generator
Great Bear Hot Water Pressure Washer with Water Tank
2023 Magnum 4000 Gold Hot Water Pressure Washer
2023 Magnum 4000 Gold Hot Water Pressure Washer
2023 Magnum 4000 Gold Hot Water Pressure Washer
2023 Magnum 4000 Gold Hot Water Pressure Washer
2023 Magnum 4000 Gold Hot Water Pressure Washer
2023 Magnum 4000 Gold Hot Water Pressure Washer
2023 Magnum 4000 Gold Hot Water Pressure Washer
AGT Heated Pressure Washer
AGT Heated Pressure Washer
AllSteel Metal Building - 30' x 40' x 10' Structure
Bastone Mobile Expandable Prefab House 15ft x 20ft
Wolverine Canister
AGT Canister
AGT Canister
AGT Canister
Chery ind 40 foot high cube Canister
Chery ind 40 foot high cube Canister
20' Shipping Container
New York Industrial 8ft Small Cubic Shipping Container
New York Industrial 9ft Small Cubic Shipping Container
Gold Mountain 40'x40'x13' Shipping Container Canopy
Gold Mountain 40'x40'x13' Shipping Container Canopy
Gold Mountain 40'x40'x13' Shipping Container Canopy
Gold Mountain 20x30x12 Fabric Storage Shelter
Gold Mountain 20'x40' Shipping Container Canopy
AGT 40'x40' Container Canopy
Gold Mountain 20'x40' Shipping Container Canopy
Gold Mountain 20'x20' Shipping Container Canopy
DAMAGED Gold Mountain 30x65x15 Fabric Storage Shelter
DAMAGED Gold Mountain 30x65x15 Fabric Storage Shelter
Gold Mountain 20x30x12 Fabric Storage Shelter
Gold Mountain 20x30x12 Fabric Storage Shelter
Gold Mountain 20x30x12 Fabric Storage Shelter
Gold Mountain 20x30x12 Fabric Storage Shelter
Gold Mountain 20x30x12 Fabric Storage Shelter
Bastone Portable Restroom w/ Shower
Bastone Portable 2 Stall Restroom
Bastone Portable 2 Stall Restroom
AGT Reflective Traffic Cones
AGT Traffic Control Barrier
Great Bear 3/8 Chains and Binders
Great Bear 5/16 Chains and Binders
Great Bear 5/16 Chains and Binders
Great Bear 5/16 Chains and Binders
Great Bear 3/8 Chains and Binders
Great Bear 3/8 Chains and Binders
Paladin Industrial 5/16 Chains and Binders
Paladin Industrial 3/8 Chains and Binders
Paladin Industrial 3/8 Chains and Binders
Paladin Industrial 2" Rachet Straps
Paladin Industrial 2" Rachet Straps
Paladin Industrial 2" Rachet Straps
Paladin Industrial 2" Rachet Straps
Paladin Industrial 2" Rachet Straps
Paladin Industrial 2" Rachet Straps
Paladin Industrial 2" Rachet Straps
Paladin Industrial 2" Rachet Straps
Land Honor Skid Steer Grader
Land Honor Skid Steer Grader
Paladin Industrial 2" Rachet Straps
Paladin Industrial 2" Rachet Straps
Paladin Industrial 2" Rachet Straps
Paladin Industrial 2" Rachet Straps
Paladin Industrial 2" Rachet Straps
Paladin Industrial 2" Rachet Straps
Paladin Industrial 2" Rachet Straps
Paladin Industrial 2" Rachet Straps
Paladin Industrial 2" Rachet Straps
Paladin Industrial 1.5" Rachet Straps
Paladin Industrial 1.5" Rachet Straps
Paladin Industrial 1.5" Rachet Straps
Paladin Industrial 1.5" Rachet Straps
Paladin Industrial 1.5" Rachet Straps
Paladin Industrial 1.5" Rachet Straps
Paladin Industrial 1.5" Rachet Straps
Paladin Industrial 1.5" Rachet Straps
Greatbear Double Leg Lifting Chain Sling w/ Sling Hooks 5/16'' 7ft
Greatbear Double Leg Lifting Chain Sling w/ Sling Hooks 5/16'' 7ft
Paladin Industrial Double Leg Lifting Chain Sling w/ Sling Hooks 5/16'' 7ft.
Paladin Industrial Double Leg Lifting Chain Sling w/ Sling Hooks 5/16'' 7ft.
Paladin Industrial Lifting Strap
Paladin Industrial Lifting Strap
Paladin Industrial Lifting Strap
Greatbear Double Leg Lifting Chain Sling w/ Sling Hooks 5/16'' 7ft
Paladin Industrial Lifting Straps
Paladin Industrial Lifting Straps
Paladin Industrial Lifting Straps
Paladin Industrial Lifting Straps
Paladin Industrial Lifting Straps
Paladin Industrial Lifting Straps
Paladin Industrial Lifting Straps
Paladin Industrial Lifting Straps
Paladin Industrial Lifting Straps
Paladin Industrial Lifting Straps
Paladin Industrial Lifting Straps
Paladin Industrial Lifting Straps
Paladin Industrial Lifting Straps
Paladin Industrial Lifting Straps
Paladin Industrial Lifting Strap
Paladin Industrial Lifting Strap
Paladin Industrial Lifting Strap
Paladin Industrial Lifting Straps
Paladin Industrial Lifting Straps
Paladin Industrial Lifting Straps
Paladin Industrial Lifting Straps
2022 CASE Skid Steer Bucket
2022 CASE Skid Steer Bucket
Topcat 4 in 1 Skid Steer Bucket
Skid Steer Brush Cutter
Kubota Skid Steer Auger And Bit
AGROTK Skid Steer Brush Cutter HCRC72
Topcat Forestry Drum Mulcher
TOPCAT Skid Steer Drum Mulcher
Wolverine Skid Steer Disc Mulcher
Topcat Skid Steer Disc Mulcher
Skid Steer Grader Blade
Skid Steer Grader Blade
Land Honor Skid Steer Double Discharge Concrete Mixer
Land Honor Skid Steer Double Discharge Concrete Mixer
Land Honor 48" Side Articulating Boom Skid Steer Brush Cutter
Land Honor 48" Side Articulating Boom Skid Steer Brush Cutter
Topcat HDRC Skid Steer Brush Cutter
Topcat Skid Steer Disc Mulcher
Topcat Skid Steer Tree Shear/ Grapple
Topcat HFRC Skid Steer Brush Cutter
Topcat HFRC Skid Steer Brush Cutter
Topcat Skid Steer Landscape Rake
Topcat Skid Steer Landscape Rake
Topcat 4 In 1 Skid Steer Bucket
Wolverine Skid Steer Stump Grinder
Wolverine Skid Steer Dozer Blade
Wolverine Skid Steer V Snow Blade
Wolverine Skid Steer Dozer Blade
Wolverine Boxbroom Sweeper with Water Tank
Wolverine Skid Steer Stump Grinder
1988 Ingersoll Rand DD-35 Double Drum Vibratory Roller
B Stone Construction Equipment Walk Behind Vibratory Roller
Wacker Neuson Remote Control Sheepsfoot Roller
Can-Am Maverick Wheels
Caterpillar Motorgrader Tires
Backhoe Bucket
Woodland Mills 3 Point Stump Grinder
John Deere 1508 Bush Hog
Alamo Hydro 15 Batwing Rotary Mower
AGROTK Excavator Flail Brush Cutter
Industries America Pull Type Box Blade
Meyer Salt Spreader
Fisher Salt Spreader
Universal Bucket Pin 55mm*400mm
Pull Type Twin Roller
3 point Box Blade
King Kutter 3 point Tiller
Dearborn 3 point 2 bottom Plow
Mower King Skid Steer Pallet Forks
Mower King Skid Steer Pallet Forks
Mower King Skid Steer Pallet Forks
Mower King Skid Steer Pallet Forks
Mower King Skid Steer Pallet Forks
Mower King Skid Steer Pallet Forks
Mower King Skid Steer Pallet Forks
Mower King Skid Steer Pallet Forks
Mower King Skid Steer Pallet Forks
Mower King Skid Steer Pallet Forks
Skid Steer Pallet Forks
Skid Steer Pallet Forks
Skid Steer Vibrator
Skid Steer Vibrator
Skid Steer Screening Bucket
John Deere Tri L Grapple Bucket 600 Quick Attach
Skid Steer Tree Shear With Grapple
JCT Skid Steer Brush Cutter
JCT Skid Steer Brush Cutter
Mower King 72" Skid Steer Brush Cutter
Mower King 72" Skid Steer Brush Cutter
Mower King 72" Skid Steer Brush Cutter
Mower King 72" Skid Steer Brush Cutter
Mower King 72" Skid Steer Brush Cutter
TMG Industrial 3 Point Tiller
Mower King Skid Steer Auger and Bits
Mower King Skid Steer Auger and Bits
Mower King Skid Steer Auger and Bits
AGROTK Skid Steer Auger and Bits
AGROTK Skid Steer Auger and Bits
AGROTK Skid Steer Auger and Bits
JCT Skid Steer Auger and Bits
JCT Skid Steer Auger and Bits
JCT Skid Steer Auger and Bits
JCT Skid Steer Auger and Bits
Skid Steer Bucket
Skid Steer Bucket
Skid Steer Bucket
Skid Steer Bucket
Skid Steer Bucket
Tomahawk Skid Steer Bucket
Mower King SSBX42 Skid Steer Wood Chipper
JCT Skid Steer Angle Blade
JCT Skid Steer Angle Blade
Skid Steer Rock Rake
Skid Steer Rock Rake
Skid Steer Rock Rake
AGROTK PD680-PZ Post Driver
JCT Skid Steer Angle Blade
Skid Steer Mounting Plate
Skid Steer Mounting Plate
Skid Steer Mounting Plate
Skid Steer Mounting Plate
oliver 252 disc
Skid Steer Mounting Frame DAMAGED
Skid Steer Mounting Frame
Skid Steer Mounting Frame
Skid Steer Mounting Frame
Tri L Mfg. Euro Bale Forks
3 Point Bale Mover
Wolverine Skid Steer Sickle Bar Mower
Great Bear Skid Steer Auger
Great Bear 78" Heavy Duy Root Grapple Rake
JCT Skid Steer Brush Cutter
JCT Skid Steer Brush Cutter
JCT Skid Steer Brush Cutter
JCT Skid Steer Brush Cutter
JCT Skid Steer Brush Cutter
JCT Skid Steer Brush Cutter
JCT Skid Steer Brush Cutter
JCT Skid Steer Brush Cutter
JCT Skid Steer Brush Cutter
JCT Skid Steer Brush Cutter
JCT Skid Steer Auger and Bits
JCT Skid Steer Auger and Bits
JCT Skid Steer Auger and Bits
JCT Skid Steer Auger and Bits
JCT Skid Steer Auger and Bits
JCT Skid Steer Auger and Bits
JCT Skid Steer 72" Tiller
JCT Skid Steer 72" Tiller
JCT Skid Steer 72" Tiller
JCT Skid Steer 72" Tiller
JCT Skid Steer 72" Tiller
JCT Skid Steer 72" Tiller
JCT Skid Steer Brush Cutter
JCT Skid Steer Brush Cutter
JCT Skid Steer 72" Angle Broom
JCT Skid Steer Skeleton Grapple Bucket
JCT Skid Steer Skeleton Grapple Bucket
JCT Skid Steer Skeleton Grapple Bucket
JCT Skid Steer Grapple Bucket
JCT Skid Steer Grapple Bucket
JCT Skid Steer Grapple Bucket
JCT Skid Steer Angle Blade
JCT Skid Steer Angle Blade
JCT Skid Steer Angle Blade
JCT Skid Steer 72" Angle Broom
JCT Skid Steer 72" Angle Broom
JCT Skid Steer 72" Box Broom Sweeper
JCT Skid Steer 72" Box Broom Sweeper
JCT Skid Steer 72" Box Broom Sweeper
Shaver 3 Point Post Driver
Blue World Pools Swimming Pool
Prentice D210D Log Loader FOR PARTS
Table With 4 ft Shear Brake and Shear
Clemco Sandblaster
Highway Guardrail
Highway Guardrail
Highway Guardrail
Highway Guardrail
Highway Guardrail
Highway Guardrail
Highway Guardrail
Highway Guardrail
Highway Guardrail
Highway Guardrail
Highway Guardrail
Highway Guardrail
Highway Guardrail
Highway Guardrail
Highway Guardrail
Highway Guardrail
Highway Guardrail
Highway Guardrail
Highway Guardrail
Highway Guardrail
Highway Guardrail
Highway Guardrail
Highway Guardrail
Highway Style Guardrail Post 6'H x 4"D x 6"W
Highway Style Guardrail Post 6'H x 4"D x 6"W
Highway Style Guardrail Post 6'H x 4"D x 6"W
Highway Style Guardrail Post 6'H x 4"D x 6"W
94 Highway Style Guardrail Post 6'H x 4"D x 6"W
50 Highway Style Guardrail Post 7'H x 4"D x 6"W
Caterpillar block handling coupler
Paladin Industrial Shackle Set
Paladin Industrial Shackle Set
Semi-Truck Box
Snow Blade
Hi-Way Salt Spreader
Smith Spreaders Salt Spreader
Great Bear 1.5 Cubic Yard Self Dumping Hopper
Great Bear 1.5 Cubic Yard Self Dumping Hopper
Great Bear 1.5 Cubic Yard Self Dumping Hopper
Great Bear 1.5 Cubic Yard Self Dumping Hopper
Great Bear 1.5 Cubic Yard Self Dumping Hopper
Great Bear 1.5 Cubic Yard Self Dumping Hopper
Great Bear 20' Dual Swing Wrought Iron Gate
Great Bear 20' Dual Swing Wrought Iron Gate
Great Bear 20' Dual Swing Wrought Iron Gate
Great Bear 20' Dual Swing Wrought Iron Gate
Great Bear 14' Dual Swing Wrought Iron Gate
Great Bear 14' Dual Swing Wrought Iron Gate
Great Bear 14' Dual Swing Wrought Iron Gate
Great Bear 14' Dual Swing Wrought Iron Gate
Great Bear 14' Dual Swing Wrought Iron Gate
Great Bear 14' Dual Swing Wrought Iron Gate
Great Bear 14' Dual Swing Wrought Iron Gate
Great Bear 14' Dual Swing Wrought Iron Gate
Great Bear 14' Dual Swing Wrought Iron Gate
Great Bear 14' Dual Swing Wrought Iron Gate
Great Bear 14' Dual Swing Wrought Iron Gate
AGROTK ATK Wheel Balancer
Target Guardmatic Masonry Saw
Iron and Oak 22Ton Log Splitter
Snap On ToolBox
Steelman 10' Storage Cabinet With 40 Drawers
Steelman 10ft Storage Cabinet with Workbench
Steelman 10ft Storage Cabinet with Workbench
Steelman 10ft Storage Cabinet with Workbench
Steelman 10ft Storage Cabinet with Workbench
Steelman 10ft Storage Cabinet with Workbench
Steelman 10ft Workbench with Drawers
Steelman 10ft Workbench with Drawers
Steelman 10ft Workbench with Drawers
Steelman 7' Storage Cabinet with Workbench
Great Bear 78" Heavy Duy Root Grapple Rake
Great Bear 78" Heavy Duy Root Grapple Rake
Great Bear Rock Grapple Bucket
Great Bear Rock Grapple Bucket
Great Bear Rock Grapple Bucket
Great Bear Rock Grapple Bucket
Great Bear Skid Steer Auger
Great Bear Skid Steer Auger
Great Bear Skid Steer Trencher
Great Bear Single Horn Anvil
Great Bear Single Horn Anvil
Great Bear 10 Foot Forklift Extensions
2003 AlumaCraft Boat
Bumper Pull Utility Bed Trailer
Titan Trac Loader 43x16-20 Tires and Wheels
Titan Trac Loader 43x16-20 Tires and Wheels
Titan Industrial Contractor 17,5L-24 Tire and Wheel
Titan Trac Loader 43x16-20 Tires
Carlisle 43x16-20 Tires
Carlisle 43x16-20 Tires
Carlisle Track Chief 12.5/80-18
Titan Multitrack41x14.00-20 Tires and Wheels
Titan Multitrack 25x8.59-14 Tires and Wheels
Deestone 6.00-14 Tires
Carlisle Farm Specialist 9.5-16 Tire
Titan Trac Loader 28x8.50-15 Tire and Wheel
Anderson Gooseneck to Fifth Wheel Adapter
Fifth Wheel Hitch For Pickup
Great Bear 78" Heavy Duy Root Grapple Rake
Great Bear 12000-pound Electric Winch
Wolverine TD-13-36R
Wolverine TD-13-36R
Wolverine Skid Steer Screening Bucket
Wolverine Skid Steer Screening Bucket
Wolverine Skid Steer Pallet Fork Grapple
Wolverine Skid Steer Bale Grapple
Wolverine Skid Steer Power Rock Rake
Wolverine 80 in Skid Steer Bucket
Wolverine 74" Skid Skid Steer Bucket
Wolverine 86 in Skid Steer Bucket
Wolverine 68" Skid Steer Bucket
Wolverine Skid Steer Stump Grapple
Wolverine Skid Steer Stump Grapple
Wolverine Skid Steer Tree Fork
Wolverine Skid Steer Attach Bale Squeeze
Wolverine Skid Steer Finish Mower
Wolverine Skid Steer Finish Mower
Wolverine Skid Steer Finish Mower
Great Bear Skid Steer Rotary Tiller
Great Bear Skid Steer Rotary Tiller
Wolverine MINI Skid Steer Angle Broom
Wolverine MINI Skid Steer Angle Broom
Wolverine MINI Boxbroom Sweeper
Wolverine MINI Skid Steer Stump Grapple
Wolverine MINI Skid Steer Stump Grapple
Wolverine MINI 4 in 1 Bucket
Wolverine MINI 4 in 1 Bucket
Wolverine MINI 4 in 1 Bucket
Wolverine MINI Skid Steer Pallet Forks
Wolverine MINI Skid Steer Pallet Forks
Wolverine MINI Skid Steer Auger and Bit
Wolverine MINI Skid Steer Auger and Bit
Agrotk Band Sawmill (DAMAGED BOX)
Mower King Skid Steer Auger and Bits
Mower King Skid Steer Auger and Bits
AGT Two-Post Hydraulic Auto Lift
AGT Two-Post Hydraulic Auto Lift
AGT Tire Machine
AGT Tire Machine
AGT Tire Machine
Mower King 72" Skid Steer Brush Cutter
Mower King 72" Skid Steer Brush Cutter
Mower King 72" Skid Steer Brush Cutter
Mower King 72" Skid Steer Brush Cutter
Mower King 72" Skid Steer Brush Cutter
AGT 30'x65' Storage Shelter
Mower King Skid Steer Trencher
Mower King Skid Steer Trencher
Mower King Skid Steer Angle Broom
Agrotk 680 Hammer Breaker
Mower King Skid Steer Blade
Mower King Skid Steer Blade
Mower King Skid Steer Pallet Forks
Mower King Skid Steer Pallet Forks
Mower King Skid Steer Pallet Forks
Mower King Skid Steer Pallet Forks
Mower King Skid Steer Pallet Forks
Mower King Skid Steer Pallet Forks
Mower King Skid Steer Pallet Forks
Mower King Skid Steer Pallet Forks
Mower King Skid Steer Pallet Forks
Mower King Skid Steer Pallet Forks
Mower King Skid Steer Pallet Forks
Mower King Skid Steer Pallet Forks
Mower King Skid Steer Pallet Forks
Mower King Skid Steer Pallet Forks
Mower King Skid Steer Pallet Forks
Mower King Skid Steer Pallet Forks
Mower King Skid Steer Pallet Forks
Mower King Skid Steer Pallet Forks
Mower King Skid Steer Pallet Forks
Mower King Skid Steer Pallet Forks
Mower King Skid Steer Pallet Forks
Mower King Skid Steer Pallet Forks
Mower King Skid Steer Pallet Forks
Mower King Skid Steer Pallet Forks
Mower King Skid Steer Pallet Forks
Mower King Skid Steer Pallet Forks
Mower King Skid Steer Pallet Forks
Mower King Skid Steer Pallet Forks
Mower King Skid Steer Pallet Forks
Mower King Skid Steer Pallet Forks
Mower King Skid Steer Pallet Forks
Mower King Skid Steer Pallet Forks
Mower King Skid Steer Pallet Forks
Mower King Skid Steer Pallet Forks
Land Honor Skid Steer Square Bale Accumulator Grapple
Land Honor Skid Steer Square Bale Accumulator Grapple
Palidin Industrial Sreener
Land Honor Skid Steer Power Rake
Land Honor Skid Steer Power Rake
Land Honor Skid Steer Landscape Rake
Land Honor Skid Steer Landscape Rake
Land Honor 72" Skid Steer Vibratory Plate Compactor
Land Honor 72" Skid Steer Vibratory Plate Compactor
Land Honor Log Grapple
Land Honor Concrete Mixer
Land Honor Concrete Mixer DAMAGED
Land Honor Skid Steer Backhoe
Land Honor Skid Steer Backhoe
Land Honor Skid Steer Root Rake
Land Honor Skid Steer Tree Puller
DAMAGED Land Honor Skid Steer Tree Puller
Land Honor 3pt Adaptor With PTO
Land Honor 3pt Adapter With PTO
Land Honor Skid Steer Utility Hitch Adapter
Land Honor Skid Steer Utility Hitch Adapter
Land Honor Pallet Forks
Land Honor Pallet Forks
Land Honor Pallet Forks
Land Honor Skid Steer Dual Bale Forks
Land Honor Skid Steer Dual Bale Forks
Land Honor Universal Adapter Plate Skid Steer
Land Honor Universal Adapter Plate Skid Steer
---