OWN A PIECE OF PARADISE: LAKE VIEW AND BOAT SLIPS REAL ESTATE AUCTION IN SHELL KNOB, MO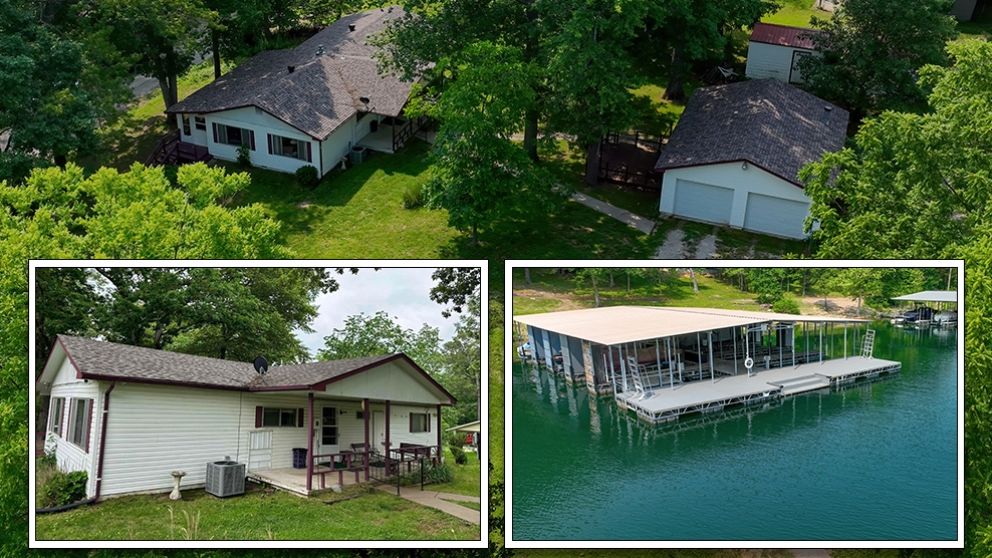 ---
SHELL KNOB, Missouri — Attention all nature enthusiasts and lake lovers: An incredible lake view real estate opportunity awaits you in beautiful Shell Knob, Missouri.
On Saturday, July 22 at 12pm CST, an in-person and online simulcast auction will take place offering you a chance to bid on a breathtaking lakeside property highlighted by 3-bedrooms, 2-bath, a large open living area, deck, covered porches, and a sunroom all situated on approximately 0.87 acres at 25079 Farm Road 2236, Shell Knob, MO 65747. This real estate auction can include two boat slips and is located just off the stunning Table Rock Lake.
Real Estate Auction with Lake View and Boat Slips - Shell Knob, MO
Date: Saturday, July 22
Time: 12pm CST
Location: 25079 Farm Road 2236, Shell Knob, MO 65747
BID NOW! CLICK HERE TO VIEW AUCTION
Lake View and Two Boat Slips: This outstanding property offers more than just mesmerizing views of Table Rock Lake. Included in the auction is two boat slips, allowing you to effortlessly explore the waters and engage in various water activities whenever you desire.
Spacious and Inviting Living Spaces: The 3-bedroom, 2-bath doublewide home provides ample space for comfortable living. The large open living area is perfect for entertaining guests, while the deck, covered porches, and sunroom offer additional spots to relax and soak in the tranquility of the surroundings.
Expansive Land and Detached Garage: Enjoy the privacy and freedom that come with owning approximately 0.87 acres of land. The property also features a 3-car detached garage, providing ample storage space for your vehicles, watercraft, or other recreational equipment.
Community Amenities: The property is located in a rule community, offering a serene and peaceful environment. You'll have access to sidewalks and a shared well (annual maintenance and fee may apply).
DISCOVER THE TOP 10 THINGS TO DO IN SHELL KNOB
How to Participate: Whether you're nearby or miles away from Shell Knob, MO, you have the opportunity to participate in this auction on Saturday, July 22 at 12pm CST. Here's how you can get involved.
In-Person Attendance: Attend the auction in-person on Saturday, July 22 at 12pm CST at 25079 Farm Road 2236, Shell Knob, MO 65747. Engage with other bidders and witness the auction process unfold.
Online Simulcast Auction: For those unable to attend in person, the auction will be simulcast online at www.SextonAuctioneers.com, allowing you to bid from the comfort of your own home. Register at www.SextonAuctioneers.com in advance to gain access to the online bidding platform, where you can view real-time auction updates and place bids.
Mark your calendars to join us on Saturday, July 22 at 12pm CST for an extraordinary opportunity to own a lakeside gem in Shell Knob, Missouri. For more information, pictures and video on this auction, visit www.SextonAuctioneers.com.
###
Shell Knob is a charming Missouri community nestled in the Ozark Mountains, known for its natural beauty and outdoor activities. Table Rock Lake, with its clear waters and over 800 miles of shoreline, provides ample opportunities for fishing, boating, and water sports. This area is a haven for nature enthusiasts and offers access to nearby attractions such as Mark Twain National Forest and the entertainment hub of Branson. With its appeal as a real estate investment and vacation home destination, Shell Knob is an ideal place to settle down or enjoy a peaceful getaway.
---