DON'T MISS THIS - OCTOBER 26th ONLINE EQUIPMENT AUCTION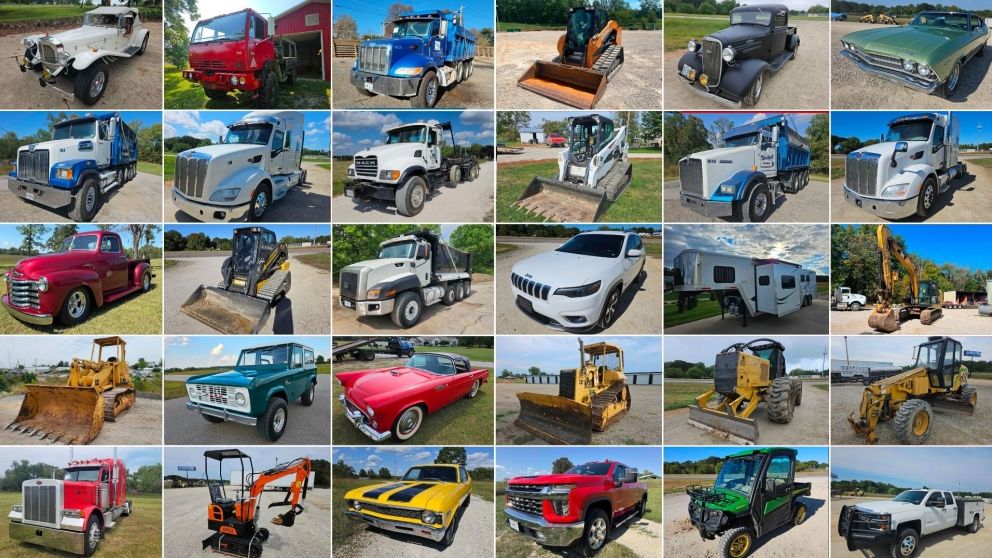 Celebrate Sexton Auctioneers' Anniversary with an Exciting Online Auction on Thursday, October 26th - Bid Now at SextonAuctioneers.com
BID NOW! CLICK HERE TO VIEW AUCTION
You don't want to miss Sexton Auctioneers' Huge Anniversary Online Auction on Thursday, October 26th taking place at

SextonAuctioneers.com

, and it's already underway. Items start closing at 11am CT on Thursday, October 26th. Get ready to Bid Now on Over 600+ items!
Want to view the equipment before you bid? Visit our Equipment Yard at:

5182 US HWY 63, Pomona, MO
---
Bid Now On These Top Items:
What sets our Anniversary Auction apart? It's all about the incredible variety and quality of items up for grabs. Over 600+ items are selling including a Huge Lineup of Heavy Equipment, Dump Trucks, Excavators, Skid Steers, Classic Cars, Pickup Trucks, Cars, ATVs, RVs, Mowers, over 200+ Skid Steer Attachments and more. Whether you're a collector, a contractor, or just someone looking for a fantastic deal, we've got something for you. Here's just a taste of some top items selling:
2016 Western Star 4700SF Dump Truck

2000 Kenworth T800 Dump Truck

2008 Peterbilt 340 Dump Truck

2012 Caterpillar CT660 Dump Truck

2006 Mack Roll Off Truck

2018 Peterbilt 579 (Qty. 3)

2016 Peterbilt 579

1967 Ford Bronco

1953 Chevrolet 3100 Pickup

1969 Chevrolet Chevelle

1955 Ford Thunderbird

1967 Ford Mustang

2020 Chevrolet Silverado 2500 LTZ & MORE!
---
Heavy Equipment and Ag Equipment:
For those who know the value of Heavy Machinery, this auction is for you. From Crawler Dozers to Excavators/Mini-Excavators, Skid Steers to Forklifts and Tractors, the range of Heavy Equipment up for bidding is extensive and impressive. Whether you're a seasoned professional or just starting to build your equipment collection, this auction is your opportunity to acquire top-quality machinery from around the community. This Thursday, October 26th Online Auction features:​
​2015 Caterpillar 316EL Excavator

1995 John Deere 690E LC Excavator

2015 Caterpillar 525D Log Skidder

1985 CASE 850D Crawler Dozer

1987 Caterpillar 963 Track Loader

2022 New Holland C337 Skid Steer​

2019 CASE TV370 Skid Steer

2018 Kubota SVL-95 Skid Steer with Bucket, Forks, and Grapple Forks

2018 Bobcat T650 Skid Steer

2008 4x4 Mauldin 413xt Motor Grader

1989 Volvo 120 Wheel Loader

McCormick CX105 Tractor

McCormick CX105 Tractor

2015 Kioti CS2410 Tractor

2020 Kubota ZD1211 Zero-Turn Riding Mower

2019 Kubota BX2680 Tractor & MORE!
Classic Cars and Vehicles:
If the roar of engines and the allure of classic design get your heart racing, you're in for a treat. The auction boasts an array of classic cars that have stood the test of time in both elegance and performance. From sleek vintage models to iconic classics, these vehicles have stories to tell and are waiting for their next proud owner. This August 31st Online Auction includes:
1967 Ford Bronco

1953 Chevrolet 3100

1969 Chevrolet Chevelle

1955 Ford Thunderbird

1967 Ford Mustang

1968 Chevrolet Nova

1968 Mercury Cougar

1936 Chevrolet Pickup

1929 Mercedes Benz Replica & MORE!
Semi Trucks and Pickup Trucks:
Whether you need a powerful workhorse for your daily tasks or a dependable vehicle for your transportation needs, the assortment of pickup trucks and semis at the auction is sure to catch your eye. With varying sizes, capabilities, and features, these vehicles are up for grabs to enhance your mobility and productivity.
2018 Peterbilt 579 (Qty. 3)

2004 Peterbilt 379 Truck

2014 Kenworth T660

2003 International 9100I Single Axle Truck

1990 Kenworth T600 Dump Truck

1993 White GMC WCA Areo Series Dump Truck

2007 Kenworth T600 Truck, VIN # 1xkadu8x57r175758

2014 Kenworth T660 (Non-Runner)

2014 Kenworth T660 (Non-Runner)

2015 Ram 1500

2019 Ram 1500

2002 Ford F250

2001 Chevrolet 3500

1987 GMC 3500 Dump Bed

1991 Ford F-250

2001 Chevrolet Silverado

1975 Dodge Power Wagon & MORE!
Trailers, ATVs, RVs and More:
The auction doesn't stop at Heavy Machinery and Vehicles. Trailers of different types and sizes are also up for bidding. Whatever your hauling requirements, you'll find an assortment of flat-bed trailers that are designed to handle various loads efficiently.
2022 Jayco Camper

2018 Keystone RV Crossroads Zinger Trailer

2021 John Deere XUV835R Gator

2018 Honda Pioneer SXS1000M5

2019 Can-Am Defender X MR HD10

John Deere XUV 825i Gator

Kawasaki Bayou 220 Four Wheeler​

2015 Polaris Ranger 570

New Holland Rustler Side by Side ATV

1996 Caravelle Boat

1993 Bass Tracker Tournament V17 & MORE!
---
How to Participate:
Participating in our Online only Auction is a breeze. Simply visit Bid.SextonAuctioneers.com and browse through the catalog of items. Once you've found the items that catch your interest, it's time to place your bids. Make sure you're registered on the website to ensure seamless bidding throughout the event. Registering takes less than 5 minutes. Call 314-529-0124 if you encounter any issues signing up to bid.
Get in Touch With Us:
Questions or need more information? Feel free to reach out to the friendly team at Sexton Auctioneers including Tyler Sexton, Gary Sexton and Luke Croney. Call 314-529-0124 for any inquiries you may have about the auction items, registering, or the bidding process. You can also email us at: Info@SextonAuctioneers.com
Ready, Set, Bid Now!
The countdown to Thursday, October 26th has begun! Don't miss your chance to be part of this extraordinary virtual auction. Whether you're in the market for heavy equipment, classic cars, pickup trucks, or trailers, this is the event you've been waiting for and don't want to miss!
Click
BID NOW
below - your next piece of equipment is just a click away!
---


Over 600+ Items Selling on Thursday, October 26th Including:
BID NOW! CLICK HERE TO VIEW AUCTION
2016 Western Star 4700SF Dump Truck
2000 Kenworth T800 Dump Truck
2008 Peterbilt 340 Dump Truck
2012 Caterpillar CT660 Dump Truck
1999 Peterbilt 378 Dump Truck
2006 Mack Roll Off Truck
2018 Peterbilt 579
2018 Peterbilt 579
2018 Peterbilt 579
2016 Peterbilt 579
1967 Ford Bronco
HOS Expandable Portable House 19'x20'
HOS Expandable Portable House 19'x20'
1953 Chevrolet 3100
1969 Chevrolet Chevelle
1955 Ford Thunderbird
1967 Ford Mustang
2020 Chevrolet Silverado 2500
2021 Jeep Grand Cherokee
2019 Jeep Cherokee
2020 Jeep Gladiator Rubicon
2015 Chevrolet Silverado 3500HD Service Truck
2020 Merhow 8311 3-Horse Trailer
1980 Peterbilt 359 Dump Truck
1996 Ford F800 Dump Truck
1998 Ford LT9513 Dump Truck
1987 Freightliner FLC112 Dump Truck
2006 Peterbilt 379
2004 Peterbilt 379 Truck
2014 Kenworth T660
2003 International 9100I Single Axle Truck
1990 Kenworth T600 Dump Truck
1993 White GMC WCA Areo Series Dump Truck
2007 Kenworth T600 Truck, VIN # 1xkadu8x57r175758
1996 Mack DMM6906S Mixer Truck
1993 Mack DMM6906S Mixer Truck
1991 Mack DMM6906S M Mixer Truck
1997 Mack DMM6906S Mixer Truck
2014 Kenworth T660 (Non-Runner)
2014 Kenworth T660 (Non-Runner)
1978 Chevrolet Dump Truck
2009 Trail King Lowboy Hydraulic Detachable Trailer
2015 Caterpillar 316EL Excavator
1995 John Deere 690E LC Excavator
2023 CFG Industrial STE35SR Mini Excavator
2015 Caterpillar 525D Log Skidder
1994 Caterpillar D5H LGP Crawler Dozer
Caterpillar D6C Crawler Dozer
1985 CASE 850D Crawler Dozer
John Deere 450E Bulldozer
1987 Caterpillar 963 Track Loader
2022 New Holland C337 Skid Steer
2019 CASE TV370 Skid Steer
Bobcat S205 Skid Steer
2018 Kubota SVL-95 Skid Steer with Bucket, Forks, and Grapple Forks
2018 Bobcat T650 Skid Steer
2006 Caterpillar 248B Skid Steer
2008 Caterpillar 242B2 Skid Steer
1996 CASE 1840 Skid Steer
2003 Bobcat T300 Skid Steer
1997 Bobcat 873 Skid Steer
Bobcat S150 Skid Steer
2002 Bobcat S185 Skid Steer
1989 Bobcat 763 Skid Steer
2008 4x4 Mauldin 413xt Motor Grader
1989 Volvo 120 Wheel Loader
2007 Volvo L70F Wheel Loader
Dynalift 548A Telescopic Shooting Boom Forklift
Job Handler LR523 Telescopic Forklift
John Deere 380-D Forklift
1979 John Deere 762 Elevating Scraper
SSI Morbark Screener
P & H 15 Ton Rough Terrain Crane
North-American Steel Sheepfoot
Easy Lawn Hydroseeder
LeeBoy 400 Roller
AGROTK QH12 Mini Excavator
AGROTK QH12 Mini Excavator
AGROTK QH12 Mini Excavator
AGROTK QH12 Mini Excavator
AGROTK QH12 Mini Excavator
AGROTK QH12 Mini Excavator
AGROTK H12 Mini Excavator
Chery Ind 12 Series Mini Excavator
MIVA VA08 Mini Excavator
MIVA VA120 Mini Excavator
MIVA VA16S Mini Excavator
MIVA VA13C Mini Excavator
MIVA VA13C Mini Excavator
MIVA VA13C Mini Excavator
MIVA VA13C Mini Excavator
MIVA VA13 Mini Excavator
MIVA VA13 Mini Excavator
AGROTK QH 12 Mini Excavator
AGROTK QH 12 Mini Excavator
Landhero 12 Mini Excavator
EGN EG5050 Crawler Dumper DAMAGED
LandHero Mini Skid Steer With Tracks
Landhero Mini Skid Steer With Wheels
2023 KBT23 Skid Steer Loader
2023 KBT23 Skid Steer Loader
Chery Ind 12 Series Mini Excavator
Kioti LB1914 Tractor
McCormick CX105 Tractor
McCormick CX105 Tractor
2015 Kioti CS2410 Tractor
2020 Kubota ZD1211 Zero-Turn Riding Mower
2019 Kubota BX2680 Tractor
2016 Ford F-450 Platinum
2015 Ram 1500
2019 Ram 1500
2014 Ford F-150
1968 Chevrolet Nova
1968 Mercury Cougar
1936 Chevrolet Pickup
1929 Mercedes Benz Replica
2002 Ford F250
2002 Ford F-450 Dump Bed
2004 Ford F-250 Pickup Truck
2006 Ford F-550 Dump Bed
2001 Chevrolet Silverado Dump Truck
2001 Chevrolet 3500
1998 Ford Econoline E150 Cargo Van
1985 International Flatbed Truck
International S1900 Flatbed Truck
2006 International Box Truck (Non-Runner)
2008 Hummer H3
1995 Chevrolet 1500 Extended Cab Stepside
1975 Dodge Power Wagon
1987 GMC 3500 Dump Bed
1991 Ford F-250
2001 Chevrolet Silverado
2010 GMC Terrain
2011 Kia Soul
2010 GMC Canyon
1994 Ford F-350
1985 Chevrolet D10
2002 Ford F-350
2002 Toyota Tacoma Pickup Truck
2007 Toyota FJ Cruiser
2015 Dodge Charger
2004 Ford Mustang
2004 Lincoln Aviator
2007 Dodge Caliber
1988 Ford Bronco
2022 Jayco Camper
2018 Keystone RV Crossroads Zinger Trailer
2004 M1078 A1 Military Truck
2023 Honda TRX520 Foreman 4-Wheeler
2021 John Deere XUV835R Gator
2018 Honda Pioneer SXS1000M5
2019 Can-Am Defender X MR HD10
John Deere XUV 825i Gator
2015 Polaris Ranger 570
New Holland Rustler Side by Side ATV
2011 GMC Acadia (Non-Runner)
1995 Jeep Grand Cherokee (Non-Runner)
Yard Jockey
Ford 2910 II Tractor
Ford 2910 Tractor
1980 John Deere 1050 Tractor and 5-foot Brush Hog
Belarus 8345 Tractor
Ford 4000 Tractor
Massey Ferguson 245 Tractor
Yanmark YM1500 Tractor
1930 GP John Deere Vintage Tractor (Non-Runner)
1996 Caravelle Boat
1993 Bass Tracker Tournament V17
Kawasaki Bayou 220 Four Wheeler
2007 Wilson Pot Livestock Trailer
1996 Wilson Livestock Trailer
1999 Wabash National Trailer
2007 Wabash National Trailer
2002 Utility Van Trailer
1999 Wabash National Trailer
1997 X-L 100 HDG Trailer
34 Bales of Haylage - Sorghum Sudan
34 Bales of Haylage - Sorghum Sudan
34 Bales of Haylage - Sorghum Sudan
1987 Gooseneck Livestock Trailer
2005 Diamond C Trailer Trailer, VIN # 46UFU282X51096440
1998 Christiansen Motors Trailer, VIN # 1C9TS4839WA329435
2022 Homesteader Enclosed Cargo Trailer
2021 Homesteader Trailer 7x16 ft Cargo Trailer
2016 Delta Manufacturing Gooseneck Flatbed Trailer
Commercial Pressure Washing Trailer
Gooseneck Equipment Trailer (NO TITLE)
1996 Texas Gooseneck's Inc Trailer (NO TITLE)
2023 Big Tex Trailer
Bumper Hitch Equipment Trailer (NO TITLE)
Bumper Pull Trailer (NO TITLE)
25' Kaulfman Trailers
Pintle Hitch Equipment Trailer
Pindle Hitch Equipment Trailer (NO TITLE)
Pull Behind Smoker/Grill
Miller Bobcat 225 Welder
Miller Trailblazer 325 Welder And Trailer
Airman PDS 185S Air Compressor
Airman PDS 185S Air Compressor
AirMan Portable Air Compressor
Sullivan-Palatek D185 Portable Air Compressor
Sullivan-Palatek D185 Portable Air Compressor
23KW Military Generator With Heat And AC Unit
Chery Ind 40 Foot, High Cube Canister
Chery Ind 40 Foot, High Cube Canister
40' High Cube Shipping Container
10.2 ft Small Cubic Shipping Container
9ft Small Cubic Shipping Container
7ft Small Cubic Shipping Container
8ft Small Cubic Shipping Container
Bastone Portable Restroom w/ Shower
Bastone Mobile Expandable Prefab House 13ft x 20ft
Bastone Portable Restroom w/ Shower
AG Spray 300 Gallon Truck Skid Unit Sprayer
110 Gallon 3 Point Sprayer
Alamo Hydro 15 Batwing Rotary Mower
Rhino Tr210 Bush Hog
Bush Hog
Bush Hog 307 Brush Cutter
Great Bear Skid Steer Tree Shear With Grapple
Great Bear Skid Steer Tree Shear With Grapple
3 Point Bale Unroller
3 Point Angle Blade
Great Bend Style Bale Spear
Skid Steer Level Best Laser Grading Box
Brush Hound Skid Steer Drum Mulcher
Coats 40-40 Air Operated Tire Machine
AGT Tire Machine
Torin BIG RED 10 Ton Floor Jack
Sign Board
Antique Coats Manual Tire Machine
Fuel Tank
Water Tanks
ITEM REMOVED FROM AUCTION
Dozer Ripper
1976 Lowe Flat Bottom Boat
Log Kicker
Altec Digger Derrick Bed
Sturdy Light Headache Rack
3, 30'X40' Hay Tarps
American Lock Company Puck Locks
American Lock Company Puck Locks
American Lock Company Puck Locks
American Lock Company Puck Locks
American Lock Company Puck Locks
American Lock Company Puck Locks
American Lock Company Puck Lock
Skid Steer Tree Shear With Grapple
Wolverine Skid Steer Brush Cutter
Wolverine Skid Steer Brush Cutter
Wolverine Skid Steer Brush Cutter
Wolverine Skid Steer Brush Cutter
Wolverine Skid Steer Brush Cutter
Wolverine Skid Steer Brush Cutter
JCT Skid Steer Brush Cutter
JCT Skid Steer Brush Cutter
JCT Skid Steer Brush Cutter
JCT Skid Steer Brush Cutter
JCT Skid Steer Brush Cutter
JCT Skid Steer Brush Cutter
JCT Skid Steer Brush Cutter
JCT Skid Steer Brush Cutter
JCT Skid Steer Brush Cutter
JCT Skid Steer Brush Cutter
JCT Skid Steer Brush Cutter
JCT Skid Steer Brush Cutter
JCT Skid Steer Brush Cutter
JCT Skid Steer Brush Cutter
JCT Skid Steer Brush Cutter
JCT Skid Steer Brush Cutter
Mower King 72" Skid Steer Brush Cutter
Mower King 72" Skid Steer Brush Cutter
Mower King 72" Skid Steer Brush Cutter
Mower King 72" Skid Steer Brush Cutter
Mower King 72" Skid Steer Brush Cutter
Mower King 72" Skid Steer Brush Cutter
Wolverine Skid Steer Tiller
Wolverine Skid Steer Tiller
Wolverine Skid Steer Tiller
JCT Skid Steer 72" Tiller
JCT Skid Steer 72" Tiller
JCT Skid Steer 72" Tiller
JCT Skid Steer 72" Tiller
JCT Skid Steer 72" Tiller
JCT Skid Steer 72" Tiller
JCT Skid Steer 72" Tiller
JCT Skid Steer 72" Tiller
JCT Skid Steer 72" Tiller
Wolverine Skid Steer Sickle Bar Mower
Wolverine Skid Steer Sickle Bar Mower
Wolverine Skid Steer Auger and Bits
Wolverine Skid Steer Grapple Bucket
Wolverine Skid Steer Auger and Bits
Wolverine Skid Steer Auger and Bits
Wolverine Skid Steer Auger and Bits
Wolverine Skid Steer Auger and Bits
Wolverine Skid Steer Auger and Bits
Wolverine Skid Steer Auger and Bits
JCT Skid Steer Auger and Bits
JCT Skid Steer Auger and Bits
JCT Skid Steer Auger and Bits
JCT Skid Steer Auger and Bits
JCT Skid Steer Auger and Bits
JCT Skid Steer Auger and Bits
JCT Skid Steer Auger and Bits
JCT Skid Steer Auger and Bits
JCT Skid Steer Auger and Bits
JCT Skid Steer Auger and Bits
Great Bear Skid Steer Auger
Great Bear Skid Steer Auger
Skid Steer Rock Rake
Homeade Tine Grapple
JCT Skid Steer Skeleton Grapple Bucket
JCT Skid Steer Skeleton Grapple Bucket
JCT Skid Steer Skeleton Grapple Bucket
Wolverine Skid Steer Grapple Bucket
Wolverine Skid Steer Grapple Bucket
Wolverine Skid Steer Grapple Bucket
JCT Skid Steer Grapple Bucket
JCT Skid Steer Grapple Bucket
JCT Skid Steer Grapple Bucket
JCT Skid Steer Grapple Bucket
Concrete Bucket
Tomahawk Skid Steer Bucket:
Tomahawk Skid Steer Stump Bucket
Wolverine Skid Steer Vibratory Roller
Wolverine Skid Steer Trencher
Wolverine Skid Steer Trencher
Wolverine Skid Steer Trencher
Wolverine Skid Steer Trencher
Mower King Skid Steer Trencher
Mower King Skid Steer Trencher
Wolverine Skid Steer Trencher
JCT Skid Steer Angle Blade
JCT Skid Steer Angle Blade
JCT Skid Steer Angle Blade
Wolverine Skid Steer Land Leveler
Wolverine Skid Steer Land Leveler
Wolverine Skid Steer Land Leveler
Wolverine Skid Steer Ripper
Wolverine Skid Steer Ripper
Wolverine Industrial Series Angle Broom
Wolverine Industrial Series Angle Broom
JCT Skid Steer 72" Angle Broom
JCT Skid Steer 72" Angle Broom
JCT Skid Steer 72" Angle Broom
JCT Skid Steer 72" Angle Broom
Wolverine Boxbroom Sweeper
Wolverine Boxbroom Sweeper
JCT Skid Steer 72" Box Broom Sweeper
JCT Skid Steer 72" Box Broom Sweeper
JCT Skid Steer 72" Box Broom Sweeper
Wolverine 3-point Adapter With PTO
Wolverine 3-point Adapter With PTO
Wolverine 3-point Adapter With PTO
Wolverine ZW-750 Skid Steer Hammer Breaker
Wolverine Skid Steer Concrete Mixer
Wolverine Skid Steer Concrete Mixer
Wolverine Skid Steer Concrete Mixer
Wolverine Hydraulic Adjust Skid Steer Pallet Forks
Wolverine Hydraulic Adjust Skid Steer Pallet Forks
Tomahawk Skid Steer Pallet Forks
Mower King Skid Steer Pallet Forks
Mower King Skid Steer Mounting Frame
7 Foot Pallet Fork Extensions
7 Foot Pallet Fork Extensions
7 Foot Pallet Fork Extensions
7 Foot Pallet Fork Extensions
Mower King Steel Fork Extensions 72 Inch
Mower King Skid Steer Boxbroom Sweeper
Paladin Industrial Double Leg Lifting Chain Sling w/ Sling Hooks 5/16'' 7ft.
Highway Guardrail
Highway Guardrail
Highway Guardrail
Highway Guardrail
Highway Guardrail
Highway Guardrail
Highway Guardrail
Highway Guardrail
Highway Guardrail
Highway Guardrail
Highway Guardrail
Highway Guardrail
Highway Guardrail
Sheet Metal
Sheet Metal
Sheet Metal
Sheet Metal
Sheet Metal
Merrit Headache Rack
Merrit Headache Rack
Merrit Headache Rack
Headache Rack
Camper Shell
Tennant Floor Scrubber
Sears Craftsman 12" Wood Lathe
Sears Craftsman Jointer/Planer
Sears Craftsman Radial Arm Saw
Black And Decker Miter Saw
Sears Craftsman Table Saw
HDC Metal Cutting Band Saw
Central Machinery Sheet Metal Brake
loading dock
Gold Mountain 40x80X20 Fabric Storage Shelter
Gold Mountain 30x65x15 Fabric Storage Shelter
Gold Mountain 30x40x15 Fabric Storage Shelter
Gold Mountain 20x30x12 Fabric Storage Shelter
Gold Mountain 20x30x12 Fabric Storage Shelter
Gold Mountain 20'x40' Shipping Container
Steelman 10' Storage Cabinet With 40 Drawers
Steelman 10ft Storage Cabinet with Workbench
Steelman 10ft Storage Cabinet with Workbench
Steelman 7' Storage Cabinet with Workbench
Steelman 7' Storage Cabinet with Workbench
Steelman 7' Storage Cabinet with Workbench
Steelman 7' Storage Cabinet with Workbench
Great Bear Skid Steer Vibrator
Great Bear Skid Steer Vibrator
Great Bear Skid Steer Vibrator
Great Bear 78" Heavy Duy Root Grapple Rake
Great Bear 78" Heavy Duy Root Grapple Rake
Great Bear 78" Heavy Duy Root Grapple Rake
Great Bear Skid Steer Screening Bucket
Great Bear Skid Steer Screening Bucket
Great Bear Skid Steer Soil Conditioner
Great Bear Skid Steer Soil Conditioner
Great Bear Skid Steer Grader
Great Bear Rock Grapple Bucket
Great Bear Rock Grapple Bucket
Great Bear Skid Steer Auger
Great Bear Skid Steer Auger
Great Bear 10 Foot Forklift Extensions
Great Bear 14' Dual Swing Wrought Iron Gate
Great Bear 1.5 Cubic Yard Self Dumping Hopper
Great Bear 1.5 Cubic Yard Self Dumping Hopper
Great Bear 1.5 Cubic Yard Self Dumping Hopper
Great Bear 1.5 Cubic Yard Self Dumping Hopper
Land Honor Skid Steer Grader
Land Honor 48" Side Articulating Boom Skid Steer Brush Cutter
Land Honor Skid Steer Backhoe
Land Honor Skid Steer Grader
Land Honor Skid Steer Backhoe
Land Honor Log Grapple
Land Honor Pallet Forks
Land Honor Pallet Forks
Land Honor Pallet Forks
Land Honor Skid Steer Tree Puller
Land Honor Skid Steer Tree Puller
Land Honor Skid Steer Tree Puller
Express Steel Skid Steer Pallet Forks
ITEM REMOVED FROM AUCTION
Mower King Skid Steer Pallet Forks
Mower King Skid Steer Pallet Forks
Mower King Skid Steer Pallet Forks
Mower King Skid Steer Pallet Forks
Mower King Skid Steer Pallet Forks
Land Honor Skid Steer Tree Puller
Land Honor Concrete Mixer
Land Honor Concrete Mixer
Land Honor Skid Steer Utility Hitch Adapter
Land Honor Skid Steer Utility Hitch Adapter
Land Honor Skid Steer Utility Hitch Adapter
Land Honor 3pt Adaptor With PTO
Land Honor 3pt Adaptor With PTO
Land Honor Skid Steer Dual Bale Forks
Land Honor Skid Steer Dual Bale Forks
Land Honor Skid Steer Dual Bale Forks
Land Honor Universal Adapter Plate Skid Steer
Land Honor Universal Adapter Plate Skid Steer
Land Honor Universal Adapter Plate Skid Steer
Land Honor Universal Adapter Plate Skid Steer
Wolverine Skid Steer Vibratory Roller
Land Honor Skid Steer Power Rake
Land Honor Skid Steer Power Rake
Land Honor Skid Steer Power Rake
Land Honor Skid Steer Landscape Rake
Land Honor Skid Steer Double Discharge Concrete Mixer
Land Honor Skid Steer Double Discharge Concrete Mixer
Land Honor 72" Skid Steer Vibratory Plate Compactor
Land Honor 3 Finger Rock & Tree Hand
Land Honor 72" Skid Steer Rock Bucket
Land Honor 78" Skid Steer Rock Bucket
Land Honor 66" Rock Bucket
Land Honor 84" Skid Steer Rock Bucket
Paladin Industrial Screener
Land Honor Skid Steer Square Bale Accumulator Grapple
Land Honor Skid Steer Square Bale Accumulator Grapple
Wolverine Skid Steer Brush Cutter
Wolverine Skid Steer Brush Cutter
Wolverine Skid Steer Brush Cutter
Wolverine Skid Steer Brush Cutter
Wolverine Skid Steer Brush Cutter
Wolverine Skid Steer Auger and Bits
Wolverine Skid Steer Auger and Bits
Wolverine Skid Steer Auger and Bits
Wolverine Skid Steer Auger and Bits
Wolverine Skid Steer Auger and Bits
Wolverine Skid Steer Auger and Bits
Wolverine Skid Steer Trencher
Wolverine Skid Steer Trencher
Wolverine Skid Steer Trencher
Wolverine Skid Steer Trencher
Wolverine Skid Steer Concrete Mixer
Wolverine Skid Steer Concrete Mixer
Wolverine Skid Steer Concrete Mixer
Wolverine ZW-750 Skid Steer Hammer Breaker
Wolverine Skid Steer Dozer Blade
Wolverine Skid Steer Dozer Blade
Wolverine Skid Steer Dozer Blade
Wolverine Boxbroom Sweeper
Wolverine Boxbroom Sweeper
Wolverine Industrial Series Angle Broom
Wolverine Industrial Series Angle Broom
Wolverine Skid Steer Sickle Bar Mower
Wolverine Skid Steer Sickle Bar Mower
Wolverine Skid Steer Tiller
Wolverine Skid Steer Tiller
Wolverine Skid Steer Tiller
Wolverine Skid Steer Box Broom Sweeper(90 liter water tank)
2023 Wolverine Rock Rake
Wolverine Concrete Chuter
Wolverine Mini Auger Drive & Bit
2023 Wolverine Bale Squeeze Hydraulic Adjustable
Wolverine Mini Stump Grapple
Wolverine Mini Pallet Fork
Wolverine Mini Boxbroom Sweeper
Wolverine Stump GrinderSG-13-08D
Wolverine Stump Grapple
Wolverine Stump Grapple
2023 Wolverine Stump Grinder
Wolverine 3 Blade Skid Steer Mower TBM-12-78W
Wolverine 3 Blade Skid Steer Mower TBM-12-78W
Wolverine 3 Blade Skid Steer Mower TBM-12-78W
Wolverine Disc Mulcher Skid Steer DM-13-72W
Wolverine Fork GrappleWOLVERINE2023UnusedFGP-11-3500G
Wolverine bucket 66
Wolverine 72" Bucket TDB-11-72W Bucket
Wolverine 84" Bucket TDB-11-84W Bucket
Wolverine Mini Stump Grapple
Wolverine Mini Auger Drive & Bit
Wolverine Mini Auger Drive & Bit
Wolverine Tree Digger Skid SteerTD-13-36R
Wolverine Tree Digger Skid Steer TD-13-36R
Wolverine Screening Bucket skid steerSB-12-72W
Wolverine SB-12-72W
Wolverine MAB-11-48W Broom
Wolverine MCB-11-48W Bucket CLAM
Wolverine MCB-11-48W Clam Bucket
Wolverine MCB-11-48W Clam Bucket
Wolverine MSG-11-44W Grapple
Wolverine BG-13-72W Bale Grapple
Wolverine Hyd. Forks PFA-11-3300G
Wolverine PFA 11 3300G hydraulic forks
Wolverine MPF 11 to 500G forks
Wolverine MPF 11, 2500G forks
top cat SSFM 81 skid steer, forestry drum mulcher
AGT Mower King Tiller TAS81
Mower king TAS 81, Tiller
mower king TAS 81 Tiller
Mower King Rotary Angle Broom SSAB72
agro Skid Steer stump GRINDER ECSSSTG 200
mower king SSBM 72
agro TopCat soil conditioner SSSCR 72
call Agro TKPD 680 PZ drop hammer
Wolverine TDB-11-84W Bucket
Wolverine, TDB, 1178W bucket
Brand-name wolverine, TDB 1172W bucket
Wolverine TDB 11, 66W Bucket
AGROTK, skid steer tree shears ECSS RB
AGRO 4/1 Clam Bucket 75"
AGT MOWER KING ECSSCT 72 Trencher
AGRO MOWER KING ECSSCT72 TRENCHER
FEN FEN20 Galvanized Steel Fence
FEN FEN20 Galvanized Steel Fence
FEN FEN20 Galvanized Steel Fence
FEN FEN20 Galvanized Steel Fence
FEN FEN20 Galvanized Steel Fence
FEN FEN20 Galvanized Steel Fence
FEN FEN45 Galvanized Steel Fence
2023 Traner Tr1000 Roller
2023 Traner Tr850 roller
Damaged Single Stall Portable Restroom
Damaged Two Stall Portable Restroom
Kelley MFG Corp B70 3pt Backhoe
Sukup Aeration Fan
Sukup Aeration Fan
Sukup Aeration Fan
Sukup Aeration Fan
Sukup Aeration Fan
Cat 963 Ripper
Cat 24" Bucket
Cat 24" bucket
Cat 24" Bucket
JCT 24" Bucket
Case 36" Bucket
Case 36" Bucket
Case 36" Bucket
Case 36" Bucket
24" Bucket
Remco Pin On Dozer Brush Rake
(4) Michelin 16.00 R20 Tires
2008 Belshe Equipment Trailer
Bale King Bale Processer
3 Point Field Aerator
John Deere 500 Style Grapple Bucket
Mower King Flail Mower
Heavy Duty Skid Steer Grapple Rake
Miller Bobcat 224 Welder
Grasshopper 721DT Zero-Turn Riding Lawn Mower
Bumper Pull Equipment Trailer (NO TITLE)
2019 Homemade Livestock Trailer
Hobart IRONMAN Mig Welder
DR Equipment Leaf Vacuum
Electric Motors
Misc. Items
Electric Motors
Long 4010 3 Point Backhoe
Haul Master 3 Point Quick Hitch
EGN EG750 Remote Control Lawnmower
Wolverine Hydraulic Pallet Forks
Wolverine Hydraulic Pallet Forks
Wolverine Hydraulic Pallet Forks
Wolverine Hydraulic Pallet Forks
Wolverine 3 Point Hitch Adapter
Wolverine 3 Point Hitch Adapter
Wolverine Grapple Bucket
Wolverine Grapple Bucket
Wolverine Grapple Bucket
WOLVERINE Skid Steer Ripper
WOLVERINE Skid Steer Ripper
Wolverine Skid Steer Land Leveler
Wolverine Skid Steer Land Leveler
7 Foot Pallet Fork Extensions
7 Foot Pallet Fork Extensions
7 Foot Pallet Fork Extensions
25 Agt Traffic Cones
25 Agt Traffic Cones
25 Agt Traffic Cones
25 Agt Traffic Cones
25 Agt Traffic Cones
25 Agt Traffic Cones
25 Agt Traffic Cones
25 Agt Traffic Cones
25 Agt Traffic Cones
25 Agt Traffic Cones
Mower King Skid Steer Pallet Forks
Mower King Skid Steer Pallet Forks
Mower King Skid Steer Pallet Forks
Mower King Skid Steer Pallet Forks
Mower King Skid Steer Pallet Forks
Mower King Skid Steer Pallet Forks
Mower King Skid Steer Pallet Forks
Mower King Skid Steer Pallet Forks
Mower King Skid Steer Pallet Forks
Mower King Skid Steer Pallet Forks
Mower King Skid Steer Pallet Forks
2023 Magnum 4000 Gold Hot Water Pressure Washer
2023 Magnum 4000 Gold Hot Water Pressure Washer
2023 Magnum 4000 Gold Hot Water Pressure Washer
2023 Magnum 4000 Gold Hot Water Pressure Washer
2023 Magnum 4000 Gold Hot Water Pressure Washer
2023 Magnum 4000 Gold Hot Water Pressure Washer
2023 Magnum 4000 Gold Hot Water Pressure Washer
2023 PALADIN WATER PUMP
2023 PALADIN WATER PUMP
2023 PALADIN WATER PUMP
2023 PALADIN WATER PUMP
2023 PALADIN WATER PUMP
2023 PALADIN WATER PUMP
2023 PALADIN WATER PUMP
Agt Heated Pressure Washer
2023 MIVA Mini Excavator VA13
2023 MIVA Mini Excavator VA13
2023 MIVA Mini Excavator VA13
2023 MIVA Mini Excavator VA13
2023 MIVA Mini Excavator VA13C
2023 MIVA Mini Excavator VA13C
2023 MIVA Mini Excavator VA13C
2023 MIVA Mini Excavator VA13C
2023 MIVA Mini Excavator VA08
2023 RODAT Traffic Cones
Egn EG323W Mini Skid Steer
Egn EG380 Mini Skid Steer
Egn EG380 Mini Skid Steer
Egn EG380C Mini Skid Steer
Egn EG380C Mini Skid Steer
7 Foot Pallet Fork Extensions
MIVA Mini Excavator Attachment Set
MIVA Mini Excavator Attachment Set
MIVA Mini Excavator Attachment Set
MIVA Mini Excavator Attachment Set
MIVA Mini Excavator Attachment Set
MIVA Mini Excavator Attachment Set
SL90B Vibratory Plate Compactor
paladin CAST IRON ANVIL 200lb
paladin CAST IRON ANVIL 200lb
paladin 400lb CAST IRON ANVIL
paladin 400lb CAST IRON ANVIL
Wolverine canister
Wolverine canister
Agt Canister
MIVA Canister
MIVA Canister
MIVA Canister
MIVA Canister
H0S HF1 8FT X 19FT FOLDING CONTAINER HOUSE
H0S HF1 8FT X 19FT FOLDING CONTAINER HOUSE
H0S HF1 8FT X 19FT FOLDING CONTAINER HOUSE
Paladin Industrial 5/16 chains and Binders
Paladin Industrial 5/16 chains and Binders
Paladin Industrial 3/8 Chains and Binders
Paladin Industrial 3/8 Chains and Binders
Great bear 5/16 Chains and binders
Great bear 5/16 Chains and binders
Great Bear 3/8 Chains and binders
Great Bear 3/8 Chains and binders
SKLP 3/8 Chains and Binders
paladin Rachet strap set
16 SKLP 1.5 in ratchet straps
10 SKLP 2 in ratchet straps
10 SKLP 2 in ratchet straps
10 SKLP 2 in ratchet straps
SKLP Shackle Set
SKLP Shackle Set
paladin shackle set
paladin web sling set
great bear lifting sling set
paladin lifting chain set
Miva 12" Mini Excavator Auger and BIt
Miva 12" Mini Excavator Auger and BIt
MIVA 24" Mini Excavator Bucket
MIVA Mini Excavator Ripper
MIVA Mini Excavator Rake
2 SKLP 2" Ratchet Straps
---